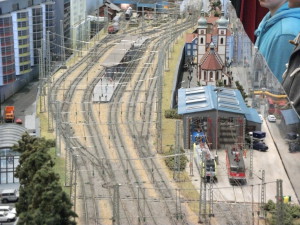 Michaelerplatz is an S-Bahn station on the outskirts of a in city in Austria. The Hauptbahn Hof is off to the right and a large marshalling yard is off to the left. The station at Michaelerplatz serves the local people with regular trains to the rest of the City as well as the centre and to the surrounding countryside.
The station also has a small freight shed and a depotfor a large supermarket chain.
There is also a stabling and light maintenance shed for locos from the Marshalling Yard & the Hauptbahn Hof.
A large and colourful variety of trains pass through the station. Specifically Intercity Expresses, local & heavy freights and the local S-Bahn trains.
The layout featured in the August 2013 edition of the Continental Modeller.
Area required 32'x 12′ including operator space.
6-8 Operators.
Costs Van Hire £90/days van required plus fuel for van and additional cars.
Insurance Value £25,000/£30,000 depending on one or two day shows.
Please note that we must be able to set up the night before the show and accommodation maybe required depending on the distance.
Michaelerplatz will only be exhibited twice a year. Due to the time it takes to erect and stock up the layout we are only able to take bookings for 2 or more day shows.
To book it please email us: michaelerplatz @ carpendersparkmodellers.org.uk
or m.roualle791@btinternet.com
PLEASE NOTE . If you send us a booking form and we sent it back, this is considered by us as a confirmed booking, so please only send booking forms if you are sure that you want the layout for your show.Thank you.