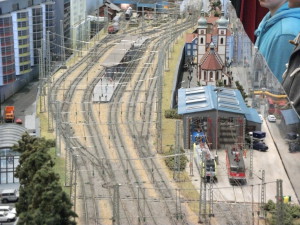 Michaelerplatz is an S-Bahn station on the outskirts of a in city in Austria. The Hauptbahn Hof is off to the right and a large marshalling yard is off to the left. The station at Michaelerplatz serves the local people with regular trains to the rest of the City as well as the centre and to the surrounding countryside.
The station also has a small freight shed and a depotfor a large supermarket chain.
There is also a stabling and light maintenance shed for locos from the Marshalling Yard & the Hauptbahn Hof.
A large and colourful variety of trains pass through the station. Specifically Intercity Expresses, local & heavy freights and the local S-Bahn trains.
The layout featured in the August 2013 edition of the Continental Modeller.
STOP PRESS – Michaelerplatz has new owners  the Renfrewshire Model railway Club at Paisley in Scotland – The layout was delivered to them after the Perth Exhibition where they made us a very good offer for the layout .